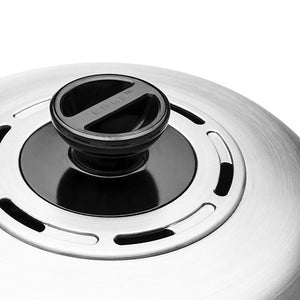 The Air Vent Kit is an upgraded ventilation system for the Premier+. It replaces the Dome Lid Knob and opens and closes the vent to control the temperature of the COBB.
The Air Vent Kit dial is made of stainless steel and designed to fit the Premier+ Dome Lid seamlessly. The control Knob is heat resistant to handle with ease. The control dial is ideal for cooking with full heat (open) or to a lower temperature for longer cooks (close). Hardware is included with this kit.
To upgrade the Premier+, remove the existing Knob and replace it with the Air Vent Kit.